Scott Price Participates in Groundswell PSN Chat

Groundswell is an international network of oral historians, activists, cultural workers, community organizers and documentary artists who are using oral history and narrative in creative, effective, and ethical ways to support movement building and social change.
Groundswell has a Practitioner support network (PSN) that creates a safe space for practitioners to discuss and get feedback on practical and ethical dilemmas. One aspect of this is the PSN chat. PSN chats are hosted and facilitated by the Groundswell network for a small group of practitioners (five to eight) focused on a particular theme, challenge or questions related to oral history and social justice.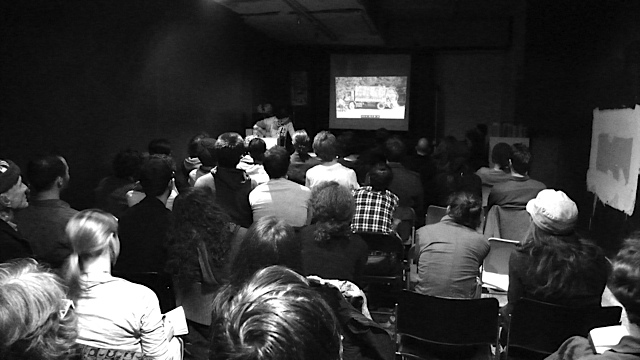 Groundswell Practitioner Support Network Chat: "How to organize a successful listening event," October 2, 2013.
Scott Price, a researcher at the Oral History Center, recently participated in a PSN chat organized by Groundswell called "How to organize a successful listening event". The chat was facilitated by Amy Starecheski who is the associate director of the Oral history MA program at Columbia University and Rachel Falcone who is the Co-Producer and Creator for Housing is a Human Right. This particular PSN chat covered the subject of "How to organize a successful listening event". A Listening event is when oral histories and stories are shared with the wider public at an event to create dialogue and discussion. Listening events can range from being catered to a very specific community or be broader in nature.
Listening events be can be an effective way to share oral histories and create public dialogue around them. However, as the participants explained from their experience such events can also be challenging to organize. How much audio can people sit and listen to and actually absorb is an on-going question for organizers of such events.  Another challenge is to find effective means to engage those listening to the oral histories in conversation, community building, and social action.
For more on what was discussed and some of the advice on listening events visit the Oral History for Social Change website.