Engaging audiences with oral history was the theme of this year's Oral History Association meeting in Minneapolis, Minnesota. Sessions on podcasting, audio-walks, and interactive exhibits were well represented as ways to present research.
The OHA podcasting panels went over a variety of topics from audio quality, structure, software, promotion, branding and distribution. The first session focused on The Future of Podcasting with facilitators Kate Brenner from Amplify: The Oral History Podcast Network and Daniel Horowitz Garcia from the Alternative Historian. The second session featured Zaheer Ali of Brooklyn's Flatbush and Main podcast, Shanna Farrell of Tales from the Campanile, Carol Prince of Press Record and Aliya Miranda of SPOHP's Safe Spaces program.
Each podcast had different approaches in terms of structure, mandate and audience but overall there was an agreed upon consensus that the demand for history based podcasts is growing. With that in mind the panelists discussed strategies on how oral history podcasts can grow an audience outside researchers and scholars. One interesting point was successful podcasts will only have upwards of 1000 dedicated listeners that will download every episode. It was suggested the goal could be achieved by establishing an oral history network of podcasts to leverage more support, promotion and collaboration. If you have an oral history podcast and want to add to it to the network you can do so here. The session also made the case for consistency in branding, promotion, mandate, structure, and audio quality to attract new listeners.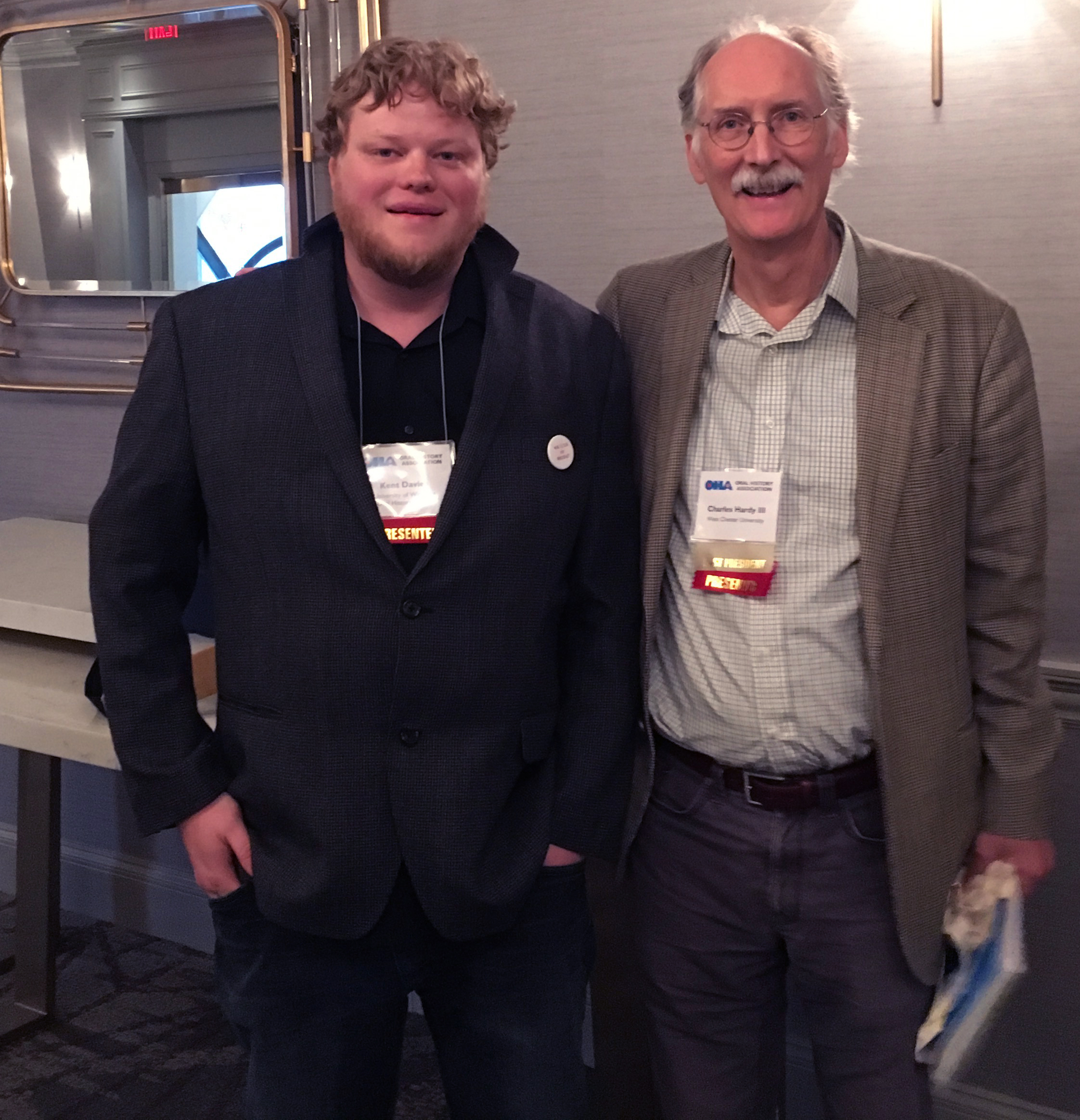 Charles Hardy III and Kent Davies at the OHA Annual Meeting 2017.
Hindenburg was strongly recommended as the go-to software amongst most panelists. Designed with podcasts in mind, the software contains features like automatic compression for broadcast levels and organizational clipboards that can contain heavily used sounds like theme music or branding stingers.
Although I felt all the podcasts presented were striking in content. Flatbush and Main stood out as the most useful learning example of how to put together a quality oral history podcast. Flatbush and Main had a great segmented structure, presenting historical analysis and timely themes with attention to methodology before proceeding to select oral history narratives.
Zaheer Ali also probably gave the best advice for any would be podcaster in terms of curating oral histories into podcasts: WHAT CAN WE DO WELL? If Ali doesn't have enough information about a subject he wants to cover, or sufficient recordings, or is hesitant to cover a subject that requires a deeper understanding from a guest researcher, he doesn't proceed. This advice may be hard to take for some aspiring podcasters but I felt it needed to be said. Some oral histories are best suited to be presented in different ways or when they can connect to a deeper issue. Presenting a life history without enough context, research or content does a disservice to the community represented.
Other highlights of the conference included a thought-provoking panel involving Steven High and Luis Sotelo Castro from the Centre for Oral History and Digital Storytelling at Concordia. High continues to lead the oral history field in innovation with In-Suitu listening and mixed media methods to placed based oral history. postindustrialmontreal.ca tells the story of deindustrialization and gentrification in a district of Montreal where condos are wedged between the highest population of public housing and community co-ops in Canada. Through bi-lingual immersive audio-walks we can listen and witness the transformation of an industrialized community and see how that influences identity and place over time. High attempts to echo Brecht's approach to theatre – hoping to break the forth wall between the listener and the community and avoid a voyeuristic presentation of the location.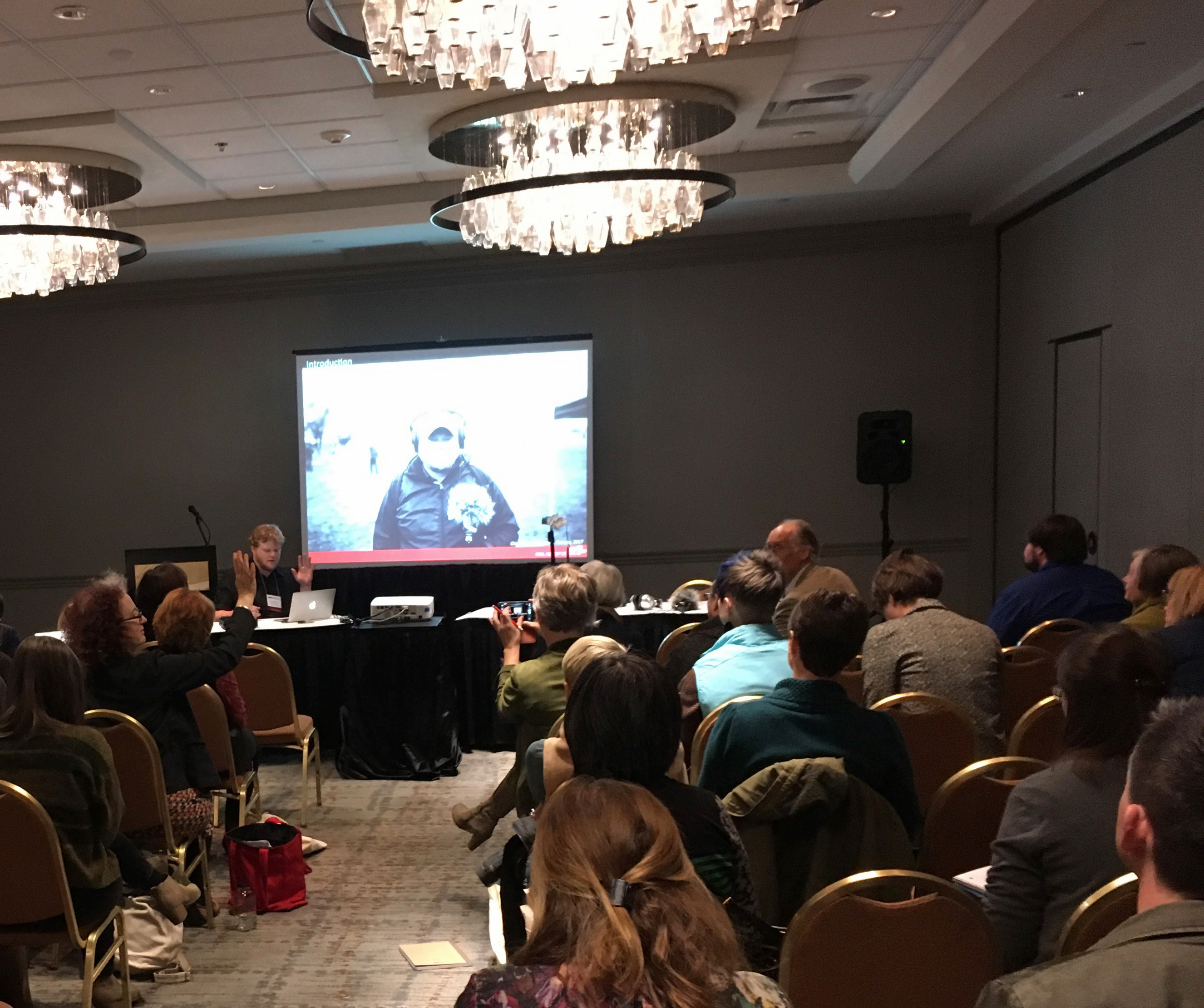 Audience of the "Sound Advice" session at the Oral History Association Annual meeting, 2017. Photo by: Janis Thiessen.
Castro's work adopts a more unusual approach designed for a specific audience of at risk youth. The audio walk tells the story of a Columbian youth and ex-FARC militant based on research collected by UNICEF. The approach to the walk involves an even more curious layer with the presence of a listening partner who walks silently with you. Once again the forth wall is challenged as Castro attempts to provoke self-reflection with historical understanding. He wants the listener to connect with the history and have them reflect upon their own history. Yet another controversial layer involves the listening partner disappearing at the end of the audio walk leaving the listener to reflect upon what just happened. Although intrigued, I wish withdrawn panelists Karoline Trunchon and Misha Myers were able to attend and add to the discussion. Myers especially has stimulating thoughts on pushing the theatrically of presenting audio walks reflected in her work Vocal Landscaping. Hopefully she presents at next year's conference where High and Castro will play the role of hosts in Montreal.
When it came to my own presentation it was a pretty nerve racking experience. I had to attempt to hold the attention of a packed room of Oral History's most revered scholars for an hour and half through dense sound theory and cryptic technical jargon but with the help of some richly recorded sound I managed to get through it. The content for the presentation is something of prelude to a field guide I'm working on. My approach is not to just replicate a basic technical how-to field guide of recording oral histories but to peak the interest of scholars towards a deeper understanding of the sound environment and how it informs research. Building on the work of soundscape scholars like R. Murray Schafer, sound historians like Mark Smith and Emily Thompson and audio-driven oral historians Charles Hardy III (who attended the session) and David K Dunaway – I attempted to present sound in different contexts and frameworks. I addressed the various benefits of collecting field sounds during research, what the barriers of doing field recording are and lastly I used my own methodology to present how one would categorize, organize and record sound for presentation and preservation. Based on feedback I was relieved that at the very least I prompted a conversation for those who attended to consider soundscape in their research.
Overall, the OHA experience left me motivated to continue to contribute and find new ways of considering and presenting oral history research at the next meeting in Montreal.